CONNECTING FOOD, GROWERS, & NEIGHBORS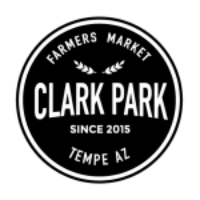 Clark Park Farmers Market in Tempe brings the Clark Park neighborhood alive with people pushing strollers, selling wares and filling tote bags until overflowing with fresh produce and locally made crafts. A public pool-turned-community garden, Clark Park is an urban neighborhood market featuring members of Tempe Community Action Agency and valley staples such as Maya's Farm and Abby Lee Farms amid yoga classes and stands of handmade goods from artisans who live minutes from the market.  Produce grown in the garden is picked fresh the day of the market and available for purchase at the Tempe Community Action Agency booth. In addition to the Clark Park produce, several local valley farmers and vendors are also at the market.  Food Trucks and Live Music bring the market to life and creates an inviting gathering space.
The market is located at the Clark Park Community Gardens (1780 South Roosevelt Street, Tempe).  
Market Season and Operating Hours:
Fall Season (October through December)
Each Tuesday 5 PM to 8 PM, excludes Christmas 
Spring Season (January through April)
Each THURSDAY 5 PM to 8 PM, excludes New Year's
See Clark Park Farmer's Market in the news.
---
Interested in Becoming a Clark Park Farmer's Market Vendor?
Contact us if you're interested in becoming a Farmer's Market Vendor. 
You will be notified once your Vendor Application has been approved. Following receipt of approval, you may submit payment to TCAA here.